About the project
Disaster Recovery Experts
United Contract Solutions provides uncompromising support for disaster relief and proactive preparation for refreshing your momentum and community support in a time of crisis. We help local and state governments and businesses to get back up and running rapidly through disaster mitigation, expert foresight, and resilience solutions.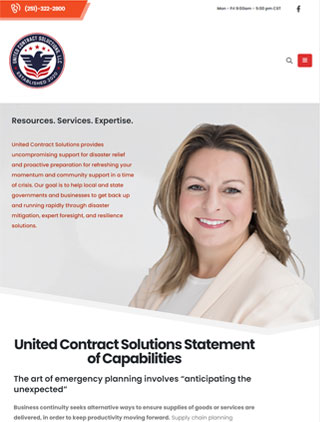 The company was looking to update their woefully outdated web presence to attract customers continue to engage existing customers. With an aggressive timeline we needed to bring a new hosting environment online, install wordpress, setup the design theme to drive the look and feel and connect email and related resources.
We used WordPress with Yoast for SEO
Elementor Pro helps speed the design process.
Various custom code components bring the site to life to engage customers.
The old website was a foundation for some of the content sections. However – to deliver a dynamic and inspiring site we developed original content to tell the story for the company. We wrote, refined, published and updated contant as the project matured. We also created marketing/sales funnels to feed the company owner new leads.
The site launch was a success, meeting the technical and communication objectives. The owner of the company was very satisfied and now has a platform to strengthen the company's brand and customer-base. We are continuing to work with the company on digital marketing projects to build on the new site and further optimize it, generate leads, and promote conversion.